April 9 -29, 2004• Village Gallery Contemporary • 180 Dickenson Street • Lahaina
LISA KASPRZYCKI • CONNIE ADAMS
Artist's Reception: Friday, April 9th, 6 - 9 pm
Lisa Kasprzycki: Homoa, Oil, 55' x 71.5", $8,000

Connie Adams: Pineapple, Watercolor, 20" x 20", $1,950
Although arriving only a few years ago to make Maui her home, Connie Adams has found profound experiences in painting extraordinary watercolors of our tropical botanical blossoms. She received her MFA in painting in 2001 from the Maryland Institute College of Art. Connie is included in numerous collections including the Kellogg Corporation, The Guam Hilton and Saipan Hyatt Regency. We are exceedingly proud to add Connie to our roster.
---
April 23 - May 6, 2004• Village Gallery • 120 Dickenson Street • Lahaina
Stephen Burr • Michael Krahn
Art Night Reception: Friday, April 23rd, 6 - 9 pm
Stephen Burr's richly applied pastels, on black paper, seem to dance with light and energy. Only working on-location, he finds the communication with his subject revealing and exciting. Michael Krahn paints glistening watercolors of Maui's shorelines and mountains with such clearness of vision, the atmosphere reaches out and touches you.
Stephen and Michael will be present for their reception on Friday, April 23rd.. You're invited to join the festivities!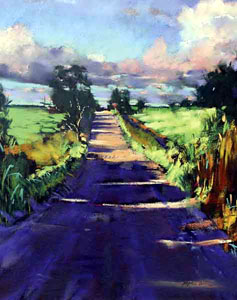 Stephen Burr: Road to Ho'okipa, Pastel, 29" x 21", $2,800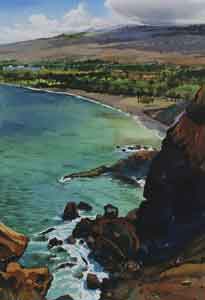 Michael Krahn:One'uli Beach, Watercolor, 14" x 8", $595

April 30 - May 20, 2003• Village Gallery Contemporary • 180 Dickenson Street • Lahaina
Flights of Fantasy • Wanda Russell & Stephenie Clifton
Art Night Reception: Friday, April 30th, 6 - 9 pm
Wanda Russell is emerging as one of Maui's most imaginative watercolorists. Her meticulous color layering technique and unique compositions have been received with noteworthy acclaim.
Stephanie Clifton has recently joined us and, although new on the island, her provocative mixed-media work prove a great addition. Such as interesting show should not be missed.


Wanda Russell: Batik Bananas, Watercolor, 30" x 11.5", $850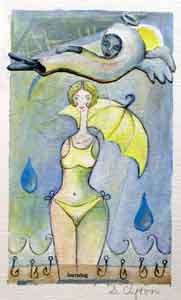 Stephanie Clifton: Learning, Mixed Media, 7.5" x 4.5", $195
---